Port Of Luanda Seaport - Angola Information And Characteristics Port Information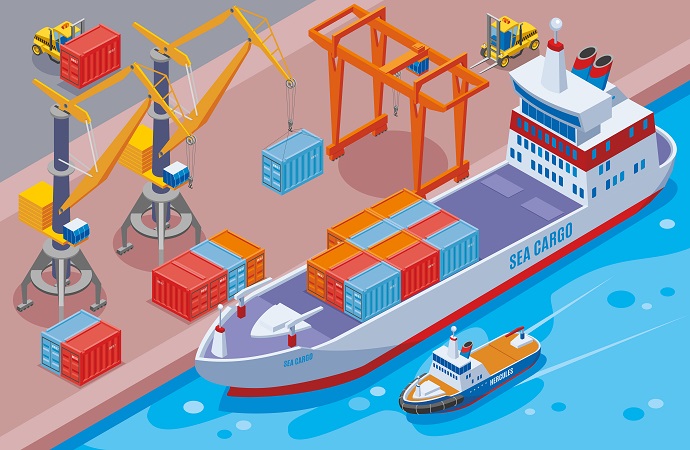 Luanda Seaport is a Located of Angola, and is a natural harbour situated in a bay, protected to seaward by Luanda Island.The Port handles Coffee, palm kernels and palm oil, sugar, cotton, diamonds, maize, wax, sisal, salt, manganese and petroleum products.Approx 5,000,000t of cargo, 228,000TEU and 500 vessels handled annually.
Vessel line-up and schedule

visit
Details latest Port information Port Of Luanda
Port
Luanda Seaport
---
UN Locator Code
AOLAD
---
Location
-8.7833°
13.2666°
---
Tide
Tide : 1 m
---
Berth
General Cargo Terminal :: Pier: 900 meters of berth with depths of: 100m to 5.5m (ZH) 800m to 10.0m (ZH)

Multipurpose Terminal :: Pier: 536 meters of berth with 10m depths (ZH)

Container Terminal :: Quay: 550 meters long quay with depths of: 350 meters to (10.5 meters) ZH 200m to (12.5 meters) ZH

Oil Activity Support Terminal :: Pier: 2,064 meters of berth with depths of: 12.50 meters

Multipurpose Terminal :: Pier: 610 meters and a depth of 12.50 meters

Passenger Terminal :: Pier: 46.15 meters

Port of Luanda has various terminals divided in to 4 categories Commercial port, Sonils Base, Fishing port and special cargo terminal
---
Navigation
• Mooring / Unmooring daylight only
---
Load & Discharge Rate
• Discharging rate average, 500 to 800 MT per day, three gangs working around the clock, including SSH
---
Berthing
Berthing alongside is based on "first in - first served"
---
Port Security
• Port security at MARSEC level 1
---
Piloting
Pilotage is carried out by a company dedicated to this purpose. It is about EPIBAL - pilotage company of the bar of luanda. Pilotage is mandatory for all national and foreign vessels over 500 gross tonnage
---
Ship Security
ISPS Level:
Police Boat: No
---
Night Navigation
Night navigation allowed?: No

---
Day Navigation Restriction
---
Vessel husbandry services & general information
medical facility for crew: Yes

Bunker supply: Yes

Ship supply: Yes

Fresh water supply: Yes

Garbage removal facility: Yes

Sludge removal facility: Yes

Repairing workshop availability: Yes

Sign On-Off permitted: Yes

Nearest International Airport:
Distance KM from port :
Nearest Domestic Airport:
Distance KM from port :
Ship sanitation certificate renewal: Yes

---
Port equipment information
Shore crane: Yes

Shore grab: Yes

Forklift: Yes

Container Lifter: Yes

---
Warehouse & Open Storege
Covered Warehouse Area: Yes

Open Storage Area: Yes

---
Cargo Connectivity
Land: Yes

Rail: Yes

---
Dry Docking
Dry Docking Available: Yes

Note : The Port Information, Restrictions updated are current & and can be changed without any prior intimation by authority. We shall not be responsible for any.
Port Information and Characteristics of Luanda Seaport - Angola
---
Detailed information about Port of Luanda Seaport - Angola. Know the Information and Characteristics about Luanda Seaport - Angola: port location, Luanda Seaport - Angola harbor characteristics, Luanda Seaport - Angola water depth, Luanda Seaport - Angola port services, restrictions, Terminal Details etc